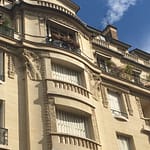 FRENCH NOTARY DEEDS: RECEIVE, BUY, SELL FRENCH PROPERTY
One of your French relatives wishes to give you assets by way of a donation. Or you are buying or selling an apartment in Paris. You live in California, and cannot travel to France.
The good news is that we can handle the paperwork right here in Los Angeles. Your French notaire will prepare and send us a draft "procuration" (power of attorney) for you to accept the gift, or buy or sell real property. You need to sign this document before a "local authority."
Catherine Parker, who is both a California lawyer and a California Notary Public, is such a "local authority." She is also a member of the Bar of Paris, France. She can explain and discuss with you the legal meaning under French law of the documents you are signing.
She can also certify deeds, in French or in English, for Canadian notaires in Québec.
We follow the guidelines of the professional organizations of the Notaires de France. If you are not fluent in French, we can provide the required translations. This allows us to offer full service support with regard to French notarial documents.