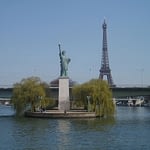 FRENCH IMMIGRATION
We handle applications for French citizenship through marriage or adoption, as well as various types of French temporary visas.
Long Stay Visas may be granted for more than 3 months and up to 12 months for any legitimate purpose (employment, study, linguistic immersion, family visit, etc.) They are also open to Americans who wish to spend their retirement years in France.
Foreign Trader Cards ("Cartes de commerçant étranger") are required of any foreign person who intends to carry out a business in France, in addition to a Long Stay Visa. As for U.S. E-2 Investor Visas, French authorities will evaluate the economic viability of the project and the professional background of the applicant.
Schengen Visas allow foreign nationals to reside within the entire "Schengen Space" (Austria, Belgium, Czech Republic, Denmark, Estonia, Finland, France, Germany, Greece, Hungary, Iceland, Italy, Latvia, Lithuania, Luxembourg, Malta, Netherlands, Norway, Poland, Portugal, Slovakia, Slovenia, Spain, Sweden, Switzerland) for up to 90 days during any given 180 day period. Americans, Canadians, and citizens of other countries that have reciprocal visa waiver agreements with the Schengen countries do not need Schengen visas.